A lot of activity occurs in the messaging platform, which is where most shipments are negotiated and won. Following the recent updates, messages pop up in real-time allowing you to close contracts and make deals faster than ever before. Make more money by quickly finding shipments along the same route, right from the messaging screen!
Here's a screenshot of the new messaging interface. We'll explain all the features in more detail below. 
We'll go over each of the messaging platform's features one by one. 
Shipment Overview
This section provides drivers with a quick review of the shipment details. Let's zoom in: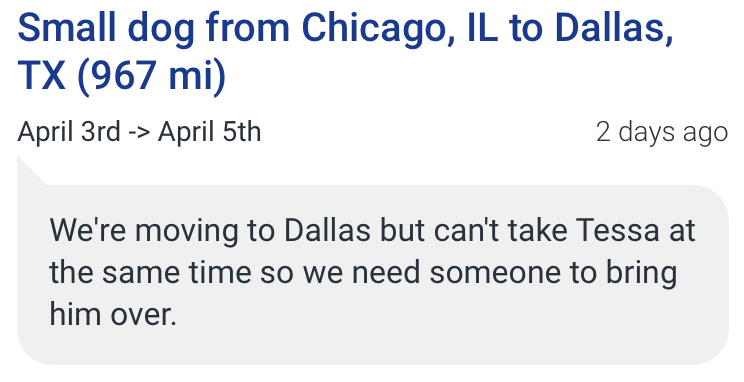 Here, we see that the customer wants to transport a small dog from Chicago to Dallas between April 3rd and April 5th. The text just below the date is a snapshot of the customer's description of their job.
Stacks
This new section allows drivers to quickly and easily located active shipments that are along the same route of the shipment they are currently discussing with the customer. 
In this example, we see from the 'Shipment Overview' section that this customer wants to ship a small dog from Chicago to Dallas. The stacks section shows two similar shipments (both dogs) that are along that same route from Chicago to Dallas (assuming the driver was driving directly). 
Other information contained in this section include:
How many extra miles will need to be driven to pick up and deliver the shipment
The similarity in the requested pick-up and drop off dates
The additional revenue that could potentially make (based on historic data) from this shipment
The Main Message Panel
The central panel is where the customer and driver exchange messages:
The improvements we've made with the last update include the following:
Messages now appear in real-time, with no need to refresh the screen. 
Messages are underlined with time tags, showing clearly when each was sent.
Active Conversations
This section shows your ongoing conversations with customers, letting you quickly and easily switch between them. Conversations are arranged in order of when the most recent message was received: 
Our team has been working on this exciting new release for some time now. Our hope is that the upgraded messaging platform provides you the tools you need to make your CitizenShipper experience easier and more profitable!
Originally created: March 2018