In this article we'll explain the shipment details page which can be reached from your main dashboard, by clicking on the following for any shipment:
First you'll see something like the following: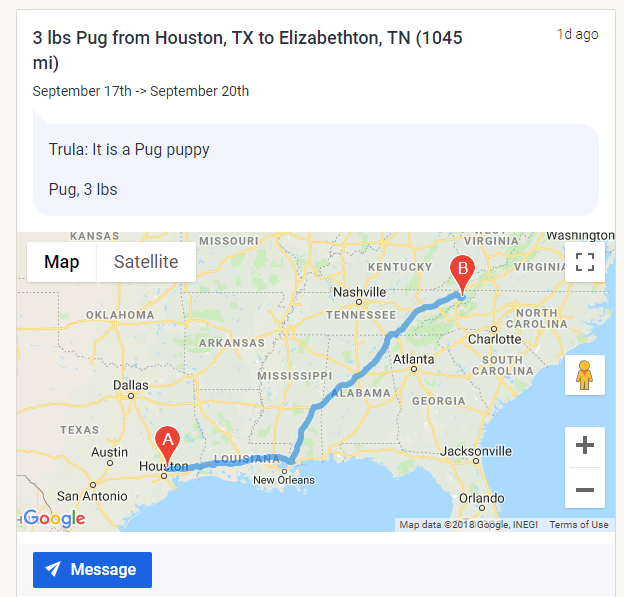 At the top you'll see a description of the shipment left by the customer. In this example the customer is telling us that they are shipping a Pug puppy, and that it's 3lbs. 
We can also see a map that helps us visualize the pickup and drop off location, and a message button that allows us to ask the customer a question about the shipment, and introduce ourselves. 
Next you'll see a section that shows you who else is bidding on the shipment:

In this example we see four other drivers are bidding, and the amount that they are bidding. 
Note - the lowest bid does not necessarily win a shipment. Customers are looking for professional and experienced drivers, so lowest isn't always best. 
Next, you'll see our Price Insights section: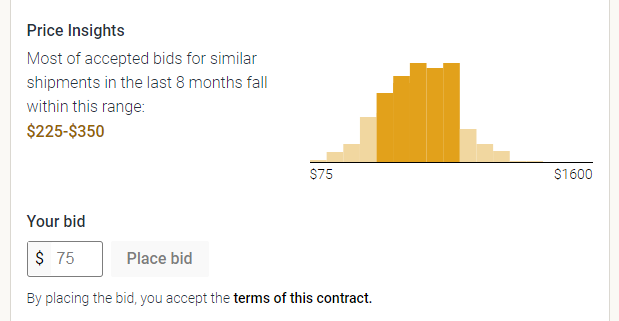 This gives you an idea of what customers with similar shipping requirements have paid in the past. While not exact - this gives you a starting point to think about what you want to bid. 
Once you've decided what you want to bid, just enter the number in the 'Your bid' box and click Place bid. 

We notify the customer immediately by email and SMS and their dashboard will show your bid as well as a link to your profile page. 
Next you'll see a very important section Make More Profit that looks like this: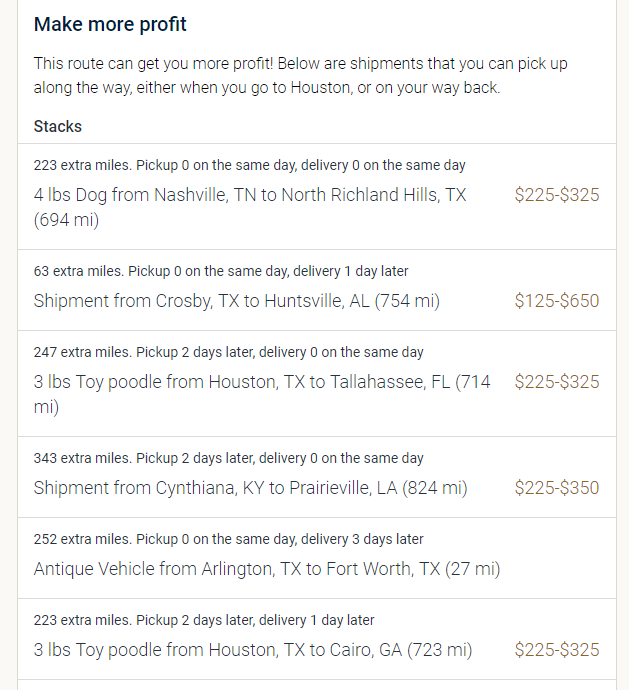 This section shows you shipments that are very close to the route of the shipment that you're currently looking at, and that match your chosen categories. 
Here we show you how many additional miles this would add to your trip, what needs shipping, and how much you could potentially make. 
What this section allows you to do is bid on multiple shipments along that similar route. 
This is important for two reasons:
1. It allows you to make more money with only a little extra driving
2. Because you can make more money, you can potentially offer both customers a more competitive price, which may increase your changes of winning the shipments. 
That's it for the shipment details section. 
More Useful Articles
Take a look at some of these articles to get the most out of CitizenShipper
 Your CitizenShipper Dashboard

Setting up your routes

The all-important messaging platform

Best ways to communicate with customers

How your profile appears to customers

Optimizing your notification settings

Other useful profile settings