Welcome to CitizenShipper and thanks for listing a shipment with us!
So what's next?
After listing a shipment on our site, you'll start to receive messages and quotes from interested drivers. You'll be able to control the entire flow of this process from your dashboard. 
Conversations and Offers 
The first thing you'll see upon logging in is the Conversations & offers section which should look something like this:
This shows you the names of all the drivers bidding on your shipment, as well as the ones you're having an active conversation with. Drivers often have questions about a shipment, so exchanging a few messages is typical before booking one. 
Click on any of the tabs to bring up the full driver conversation thread. 
Suggested Matches
Directly underneath, you should see the Suggested matches section. These are drivers who we think may be available to send you a quote. We compile this list based on the previous experience certain drivers have with similar shipments, and who we think may currently be close to your location.
You can click on any one of the suggested matches and shoot them over a quick message. Just ask if they've seen your listing and if they're interested. We aim to connect you with professional, certified transporters only, in the easiest way possible :)
Messages
The messages section is a way for you to easily communicate back and forth with drivers and will look something like this:
The messaging platform allows you to chat with drivers in real-time. If either side of the conversation isn't available in real-time, we send out notifications by email or text, letting them know they have a message waiting. 
Please note that CitizenShipper does not allow the exchange of contact information via its messaging platform. We strongly advise you to conduct all business on-site, where everything is kept on the record. This not only protects you from scammers but also helps us mediate any disputes that may arise.
Driver Profiles
When you select a conversation, you'll see a snapshot of the driver's profile which should look something like this:
 Here you can see the company name of the transportation provider, their rating from previous customers, and a brief description of the company.  
Clicking View profile will bring up the full driver profile: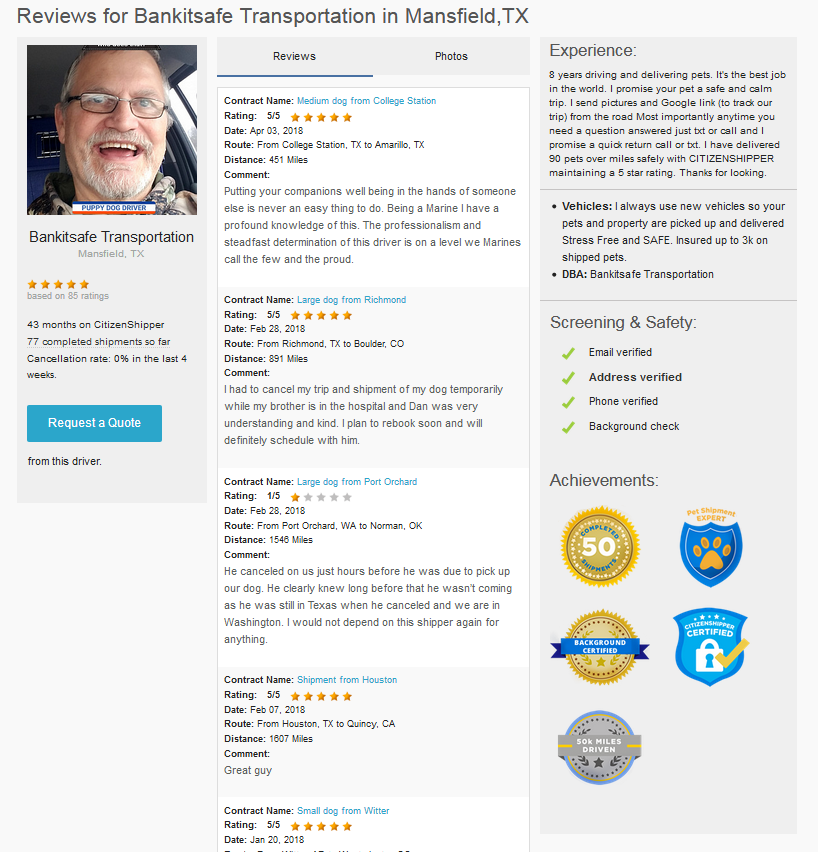 Here you'll see a wide range of information, including how long they've been active on the site, how many shipments they've completed so far, and what their cancelation rate is. 
We also show you customer feedback, as well as a summary of the safety screenings they've passed. 
In addition, drivers accumulate achievements over time, which you can see in the panel to the right. Mouse over any award (or click if you're on a mobile device) to see a description of the achievement in question. 
All this information on the driver's profile page should provide enough background information on a driver for you to make an informed decision on hiring them. 
Driver Offers
Going back to the main messaging platform, here's what you'll see when a driver submits a quote on your shipment: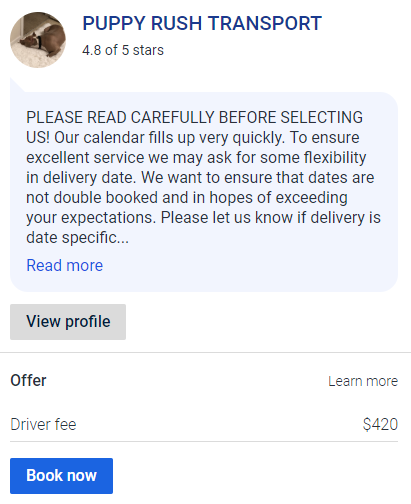 In this example, the driver is offering to deliver your shipment for $420. Keep in mind that this sum does not include the CitizenShipper service fee - that will be added to your total later, if and when you choose to accept the bid. 
Once you're ready to book your driver, hit the Book now button which will take you to the booking page. There you can review the total expenses and input your credit card information. 
Once that's done, we'll notify the driver that they've won the shipment. At that point, you'll both be given each other's contact information so you can arrange any further details directly. 
Reviews
Lastly, when a driver sends you a quote, you'll see a snapshot of their feedback history. It should look something like this: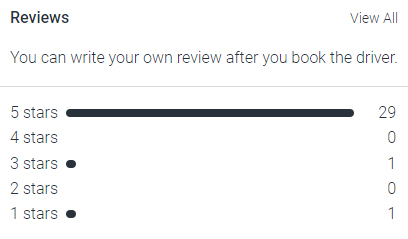 This shows you how previous customers have rated the driver. This one is doing pretty well, with a total of 29 five-star ratings!
You can click either View All or View Profile to read through the reviews and see what the customer had to say about their experience with the driver.
~
And that covers the basics of the CitizenShipper interface! Click the links in the panel to the left to access other articles in the Quick-start guide for new shippers.
If you have any further questions, feel free to contact us at support@citizenshipper.com.