Welcome to CitizenShipper and thanks for listing a shipment with us!
So what's next?
After listing a shipment on our site, you'll start to receive messages and quotes from interested drivers. You can control the entire flow of this process from your dashboard.
Conversations and offers
The first thing you'll see after logging in is the conversations & offers section, which should look like this:
This shows you the names of all the drivers bidding on your shipment, as well as the ones you're having an active conversation with. Drivers often have questions about a shipment, so exchanging a few messages is typical before booking one.
Click on any of the tabs to bring up the full driver conversation thread.
Messaging
The messaging platform allows you to chat with drivers in real-time. If either side of the conversation isn't available in real-time, we send out notifications by email or text, letting them know they have a message waiting. Once you start communicating back and forth, it should look something like this:
Please note that CitizenShipper does not allow the exchange of contact information via its messaging platform. We strongly recommend conducting all business on-site, where everything is kept on the record. This not only protects you from scammers but also helps us mediate any disputes that may arise.
Before clicking Book now, it's advisable to check out the driver's profile page. Click their username to see a summary of their profile, and then click See full profile & reviews to proceed.
Driver profiles
Here's an example of what you'll see when you first visit a driver's profile page:
Below this introductory section, you'll see a wide range of information, including the driver's average rating, the number of shipments they've delivered, what their cancelation rate is, and more:
Under Offerings, you can see a list of any special services that the driver might be able to provide:
Finally, you can browse through the reviews left by the driver's previous customers:
Browsing through all this data on a driver's profile page should provide enough background information for you to make an informed decision on hiring them.
Driver quotes
Going back to the main messaging platform, here's what you'll see when a driver submits a quote on your shipment: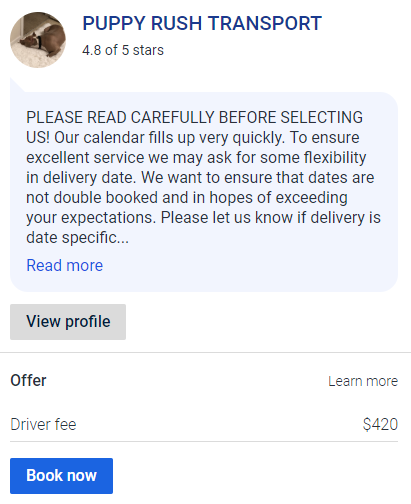 In this example, the driver is offering to deliver your shipment for $420. Keep in mind that this sum does not include the CitizenShipper service fee - that will be added to your total later, if and when you choose to accept the bid.
Once you're ready to book your driver, hit the Book now button. This will take you to the booking page where you can review the total expenses and input your credit card information.
Once that's done, we'll notify the driver that they've won the shipment. At that point, you'll both be given each other's contact information so you can arrange any further details directly.
Rate and review your driver
After a shipment is complete, we invite you to leave your own review of the driver's performance. Your essential feedback helps other customers make an informed decision on whether or not to hire a driver.
To review your driver, simply select their message thread and click Review in the top right:
If you have any further questions regarding the CitizenShipper customer interface, feel free to contact us at support@citizenshipper.com.
What to read next
For more advice on making the most of your CitizenShipper experience, see the articles on listing a shipment (1-min read) or adjusting your notification settings (2-min read).
For a comprehensive overview of CitizenShipper policies, check out this section of our Help Center.