So you joined CitizenShipper as a driver - what now?
In this article, we'll try to guide you through the first steps you take on the CitizenShipper site and provide all the details you'll need to win your first shipment.

Let's start with the basics.
Editing your profile
In the top right corner, click the little gear icon (⚙️), then select Edit profile from the dropdown menu.


While editing the profile, enter as much useful information about yourself and your business as you can. Make sure to include details about your vehicle. Shippers need to know as much as possible about their drivers. It gives them peace of mind when entrusting you with their precious cargo.
The Experience section may be the most important one when building confidence with shippers. List any previous experience in transportation that you have, going into specifics if possible. The more extensive your listed experience is, the easier it will be for you to win a shipment.
Even if you are just starting out, emphasize every strength that you have. If you love animals, for example, and know a thing or two about pet transportation, don't forget to point that out.

Sample experience entry: "I've been driving for ten years now, and I am a dog owner. I've always loved animals, and I know how frustrated pets can get during transport. I stop for breaks every two hours when driving my dog long-distance."
Once you have entered all the info you want to share with customers, click Update Profile. This will redirect you to the My Profile page.
Make sure you add some photos to your profile:

Nice job!
Setting up routes
Next, click the Routes button at the top of your Dashboard. This will allow you to add or remove the routes, cities, and states in which you prefer to do business. Simply enter the locations you're interested in shipping to or from, and those will be the shipments that we send you.
For example, let's say you live in New York State and want to explore Ohio or North Carolina. Just click to add these as your preferred routes, and we'll start showing you shipments in those areas.
If your preferences change at any point, you can add or remove states, cities, or routes by clicking Edit state/Province list. Feel free to experiment - this is your chance to explore as many states as you want while getting paid to travel!

Once you're finished setting up routes, let's get back to your Dashboard.
Shipment listings
When just starting out, you'll want to focus on the shipments that pop up in your Recommended tab. After you've made a bid or two, they'll be in your Active tab. Once you've won a bid, you'll find it in your Won tab.
But we want the shipment listings that appear in these tabs to be of interest to you. In order to do that, let's make sure that your notifications are properly configured. For a full walkthrough on this, see the Change your notification settings article.
Also, double-check the Categories settings that you've chosen when opening your account. These also affect the notifications you receive, and the shipments you see on the Recommended tab.

With all that said and done, your profile should have almost all the information a shipping customer could ask for. When you navigate to the Recommended shipments tab, you should see a list of shipments that match the criteria you've just set.
But before you click a shipment you're interested in and message the customer, you will need to initiate your security screening.


Security check
We ask all of our new drivers to go through a quick background check before they can submit quotes on any shipments. Once you've completed our screening, your profile is marked "CitizenShipper-certified". For more information on the process, see this article.
Having drivers verified by a third party gives our customers confidence that their precious possessions and beloved pets will be safe and well provided for during the journey. Remember, trust is an essential component of the customers-transporter relationship.
With that out of the way, you're ready for your first bid!
Placing bids
In your dashboard, you should see shipments listed, each with its own unique details. By clicking on one, you'll see the current bids and price insights. You don't have to stick to that price range, but you should use it as a point of reference when placing your bid.
We also encourage drivers to contact a potential customer before sending a bid. Message them if you need any clarifications regarding their shipment listing. By establishing this first-person point of contact, you can greatly improve the odds of any bid you decide to place later.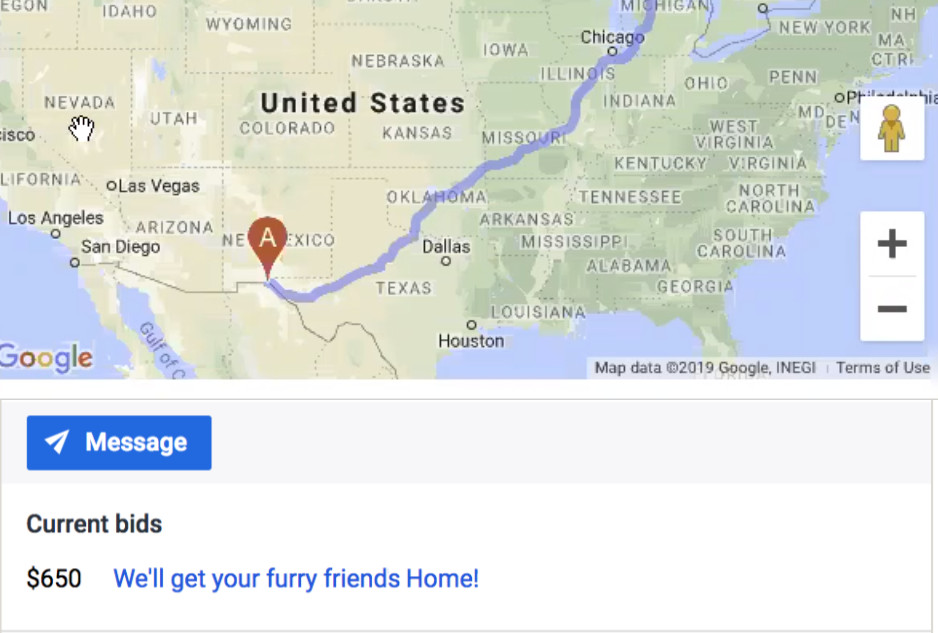 Below this section, you'll see the Make more profit subheading, dealing with rideshares: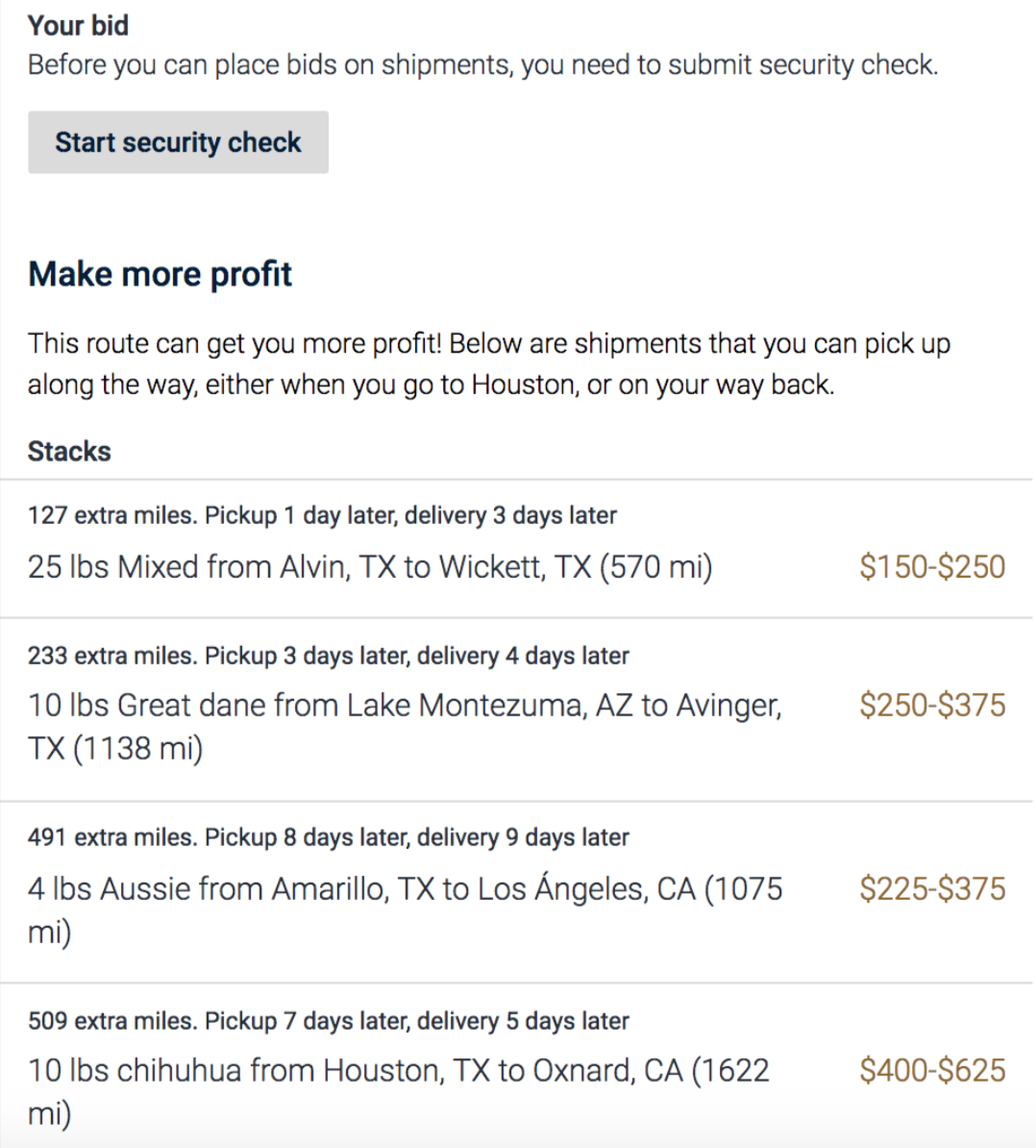 Ridesharing shipments
The Ridesharing Tool lets you quickly locate shipments with pick-up and drop-off locations near the shipment route you are currently looking at.
The purpose of this tool is to help you combine multiple shipments, allowing you to generate more profit and/or offer the customer a more competitive bid.
Included in the Ridesharing Tool is an estimate of the additional miles you'll be driving.
Try this tool out, and learn to use it wisely. Lower bids help you win more shipments; completed shipments lead to positive feedback; good reviews are crucial in building a reputation and earning serious money as a transporter.
Talking to customers

Analyzing driver performance, one thing we've noticed is that the most successful ones are GREAT at communicating with customers. Some, for example, introduce themselves to a potential customer prior to submitting their first quote. (Others submit a quote but then follow up with a message or two.)
The content of your first message to a customer is essential to winning a shipment.
Imagine, for example, you're a pet owner in need of transportation. You're probably a little nervous as you've never shipped your puppy before, and you want to make sure it is in good hands. So you get two messages from two different drivers. They read as follows:
Message #1:
I'll be in the area next week. I could do this for 500.
Message #2:
Hey there! My name is Candace and I'm an experienced transportation provider with a perfect safety record, clean license and full coverage insurance. I've been transporting dogs for three years now and LOVE animals. We stay in pet-friendly motels for the trip, and they will be safely secured during the transport in a carrier. I'll make regular rest stops and I'll also send you regular pictures so you can see that your baby is happy and safe. Before I place a quote may I ask if you have a budget in mind?

If you were a customer, which message would you be more likely to respond to?

Above all, the customer wants to know that their shipment will be in safe hands. While talking to them, describing your experience is often the first step in building that all-important trust.
If they seem anxious, you might want to assuage them by offering to send regular picture updates from the road, letting them know everything is going well and their pet is enjoying the ride. This can be a great way to increase customer confidence and improve your chances of winning the bid.
Closing words
If you've read through all that, we're pretty sure you're good to go :) Just remember: not winning your first bid is completely normal. Some of our most successful drivers only won one after placing dozens of bids! Once you get that first shipment under your belt, more will follow.

If you need any further assistance, please contact us directly at support@citizenshipper.com, or via the CitizenShipper Facebook page. Our dedicated teams will be there as soon as possible to help you out!
What to read next
Check out the other sections of our Help Center for advice on setting up your account or bidding on shipments.
We also have all the information you need neatly compiled into a step-by-step Onboarding guide: click here for Part #1.