One of the most crucial aspects of winning shipments on CitizenShipper is reaching out to customers with a good intro message. Successful transporters keep a pre-written, battle-tested template they send to all prospects. However, this is highly repetitive work: Find a shipment, open messages, copy the template, paste, go back, rinse and repeat. On mobile? Even worse.
This is why we are so excited to announce a new feature called ⚡️Intro. It allows you to save your template message and send it to prospects with just one click, right from the feed or shipment page.
Feel your productivity go up already? Follow along, there's more!
How quick messages win more customers
Did you know that 56% of all shipments that are booked receive an intro message from the driver within the first hour of the shipment being listed?
This is huge.
Sending an intro message even trumps sending a bid by itself.
Why?
Because when customers list their shipment, that is the moment they have a problem that they need to solve. So when you engage with them quickly, you help them to solve their problem.
Remember that many customers are also looking at other sources to find drivers for their move. If you approach them a few hours too late, chances are they're already speaking to multiple drivers elsewhere.
More so, if you only place a bid (with no message), they'll be comparing you with others solely based on the price – and you don't want that. You want them to compare you on your experience, communication style, trustworthiness, and other unique skills.
Not only that, but many customers need to connect with, and develop trust with their potential transportation provider, which is why a message is much more powerful than just sending a bid by itself.
Get personal with a dynamic customer name tag
A simple, yet effective trick to get more responses from customers is to use their name in your opening. There's a cool way to do just that right within your intro message! Here's how it works:
In the text input, press @ and a menu will show up. There's only one option – First name. When you select it, it will add "@first_name" to your text. Just leave it like that. The magic happens whenever you send the intro message because it will convert the tag into each customer's name. Check it out: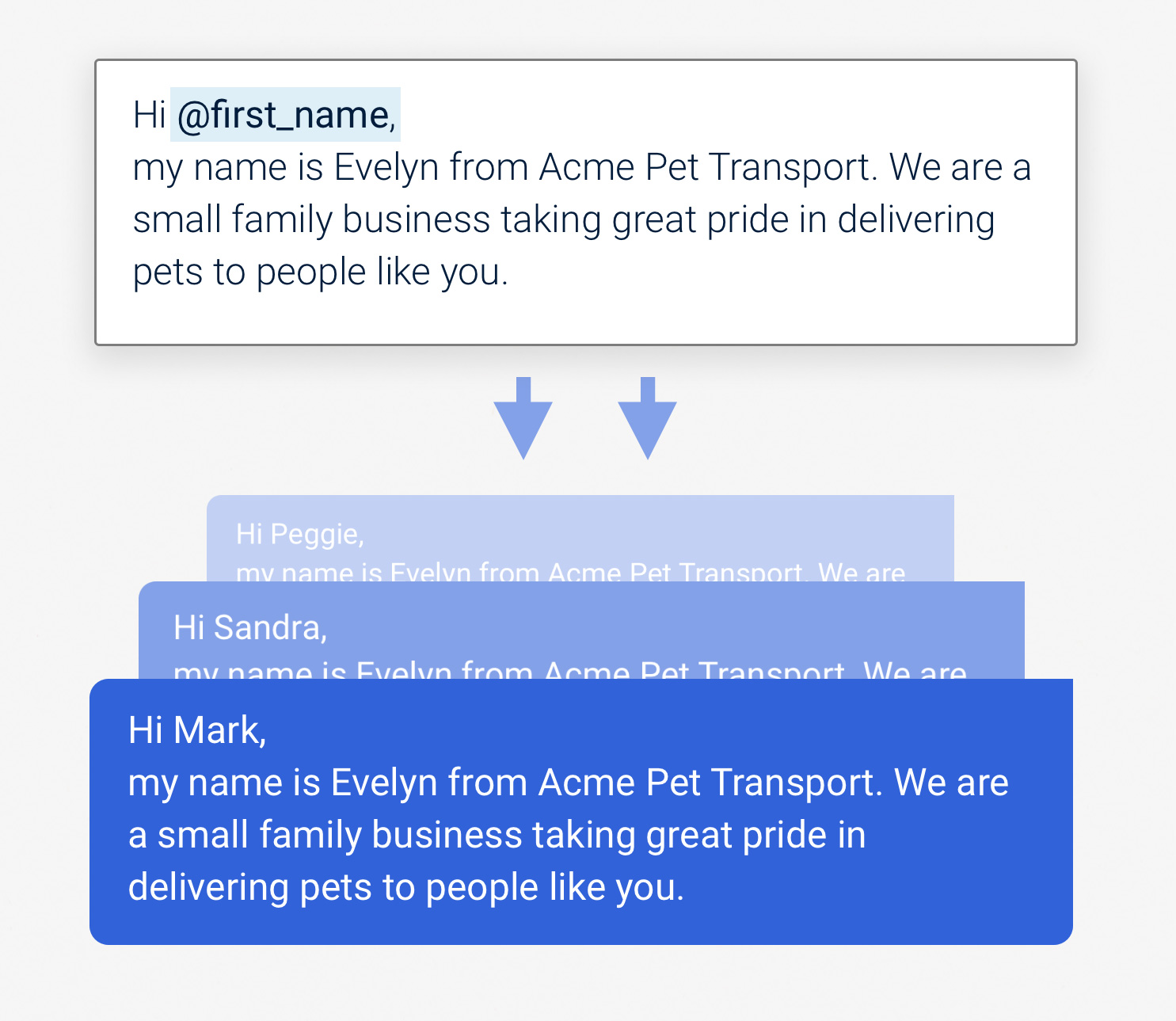 How can I edit my Intro?
In the top right corner, click on the Settings icon. In the drop-down menu, click Intro.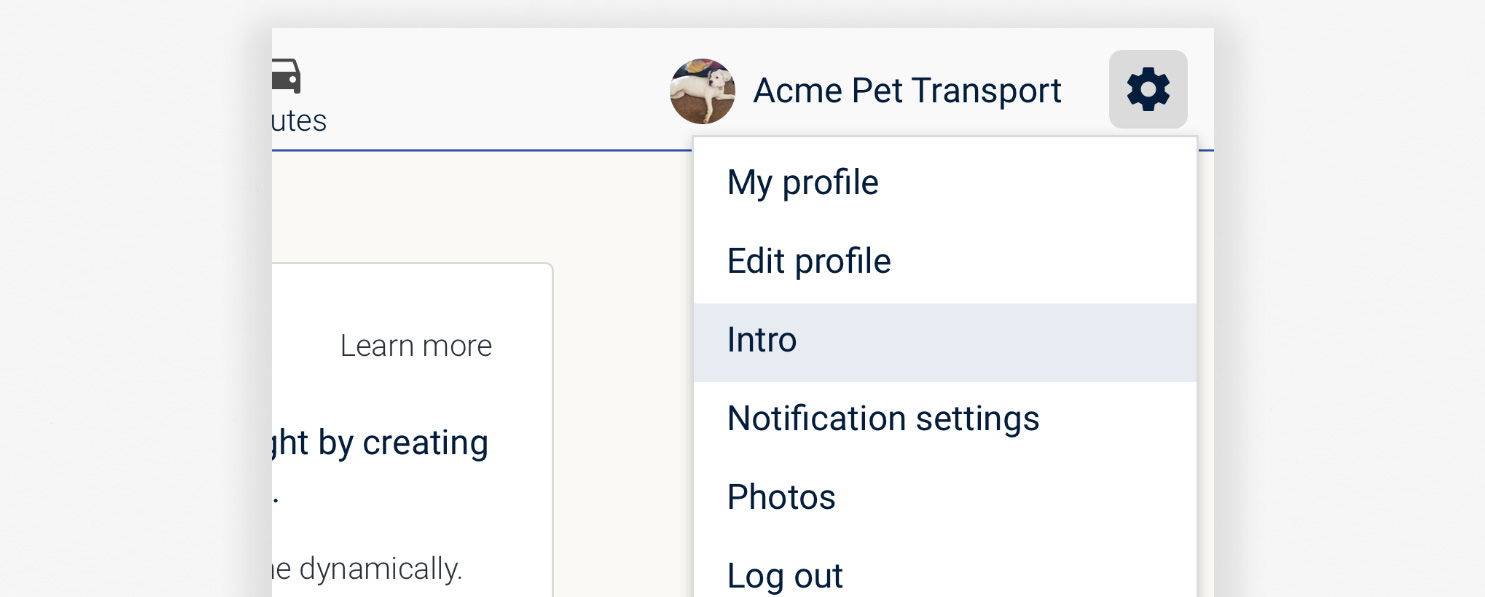 On the Intro screen, you'll see the form to compose your message. Make sure to enter at least 200 characters, but we suggest at least several sentences. Don't forget to hit Save when you're done.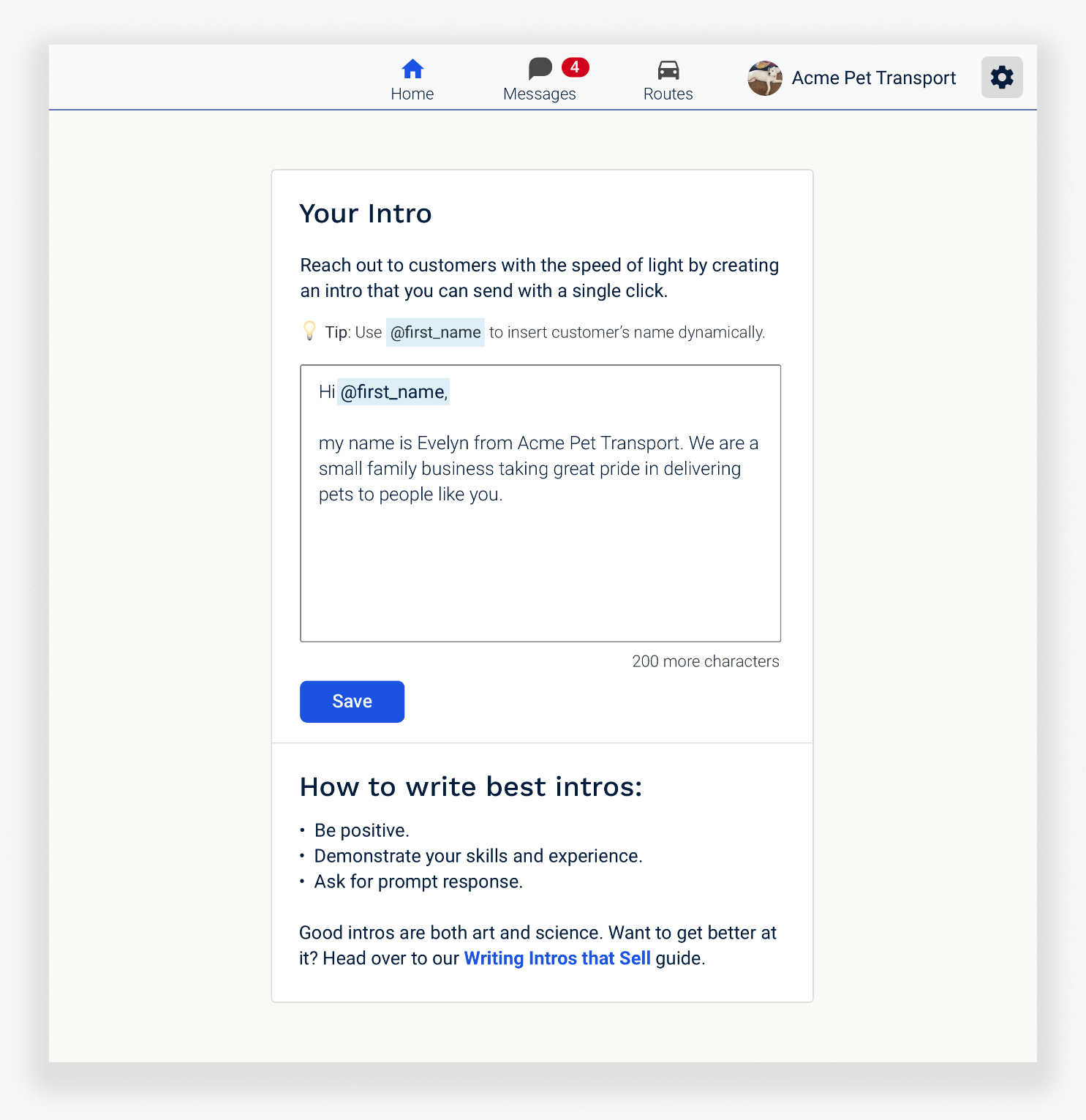 Sending Intro messages
There are two places where you can fire off your intro message to a potential customer.
The first is in the Recommended shipments feed, where you see the summaries of the shipments listed:
Just clicking the Send Intro button will send off your message.
Need more details on a shipment before introducing yourself? You can also send off the intro message on the shipment page:

Again, just click the Send Intro button to fire off your message to the customer.
Bids + Intro combo
If you bid on a shipment without messaging the customer first, we'll always send the intro message automatically. Of course, you can send a message first, and then bid later, but if you want to do both at the same time, this is a handy shortcut.
Sometimes, you'll want to tailor the message specifically to a shipment. In these cases, use the standard Message button to compose the message.

Note: An intro will be sent only once. You can update, retract and place a bid multiple times on a single shipment, but it will only go out the first time.
Best intros are both art and science
Crafting a good intro message takes time and experience. To help you make the best of it, we wrote a guide on how to Write Intros That Sell. Once you're ready, head on over to the Intro page, and set up your intro message.
If you have any additional questions contact us on support@citizenshipper.com