At CitizenShipper, our goal is to keep expenses affordable and vehicle shipping services accessible to all. Here's how:
Listing a vehicle shipment on our marketplace is completely

free of charge

.

Before you make a payment

you can connect with drivers, review quotes, and negotiate any details of the shipment.

After accepting a quote we add a modest

service fee.

The service fee is a separate expense that's calculated automatically after you click "Book Driver."

The service fee

is in addition to

the quoted price —

it doesn't come out of the driver's quote

.

You can review the breakdown of your expenses before confirming the shipment.
This fee scales with the driver's quoted price as follows for vehicle transport:

Example of Vehicle Shipping Fees
Let's say a driver quotes you $400 for the shipment. Looking at the table above, we see that this quote is in the $369-$414 price range. That means the service fee is $99.99. Your total expense would be $499.99 — our fee represents about 19.99% of the cost.
The service fee is the only required upfront cost — you'll be charged

$99.99

immediately.

You'll pay the remaining

$400

as agreed upon with the driver (typically on delivery).
Here's a graph that illustrates the breakdown of costs: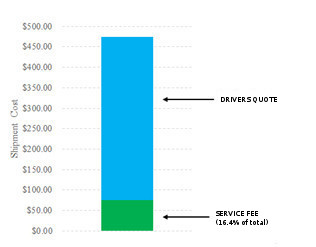 Why Is There a Service Fee?
You may wonder, "Why does CitizenShipper charge a service fee?"
We use the revenue generated from your service fee to improve our marketplace and ultimately, the customer experience for shippers and drivers.
Our drivers have the freedom to run their small businesses and be their own bosses — they set their own prices and routes. This is why we never take a cut from the driver's quoted price.
If you have any further questions or concerns about the CitizenShipper service fee for vehicle shipping, please don't hesitate to reach out to our customer support team!
What to read next
For more on finding your way around the CitizenShipper platform, see the articles on making payments (2-min read) and booking a driver (2-min read).
For a comprehensive overview of CitizenShipper policies, check out this section of our Help Center.